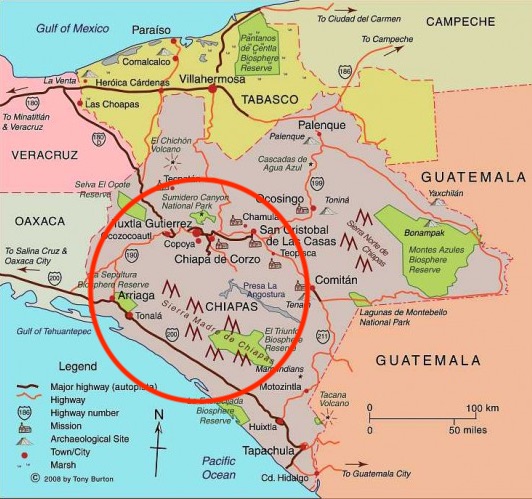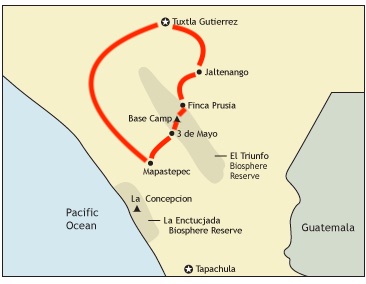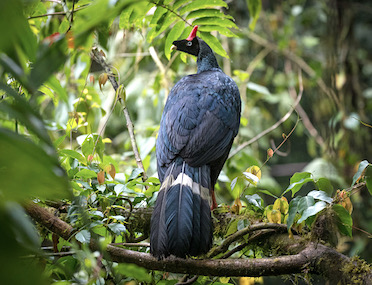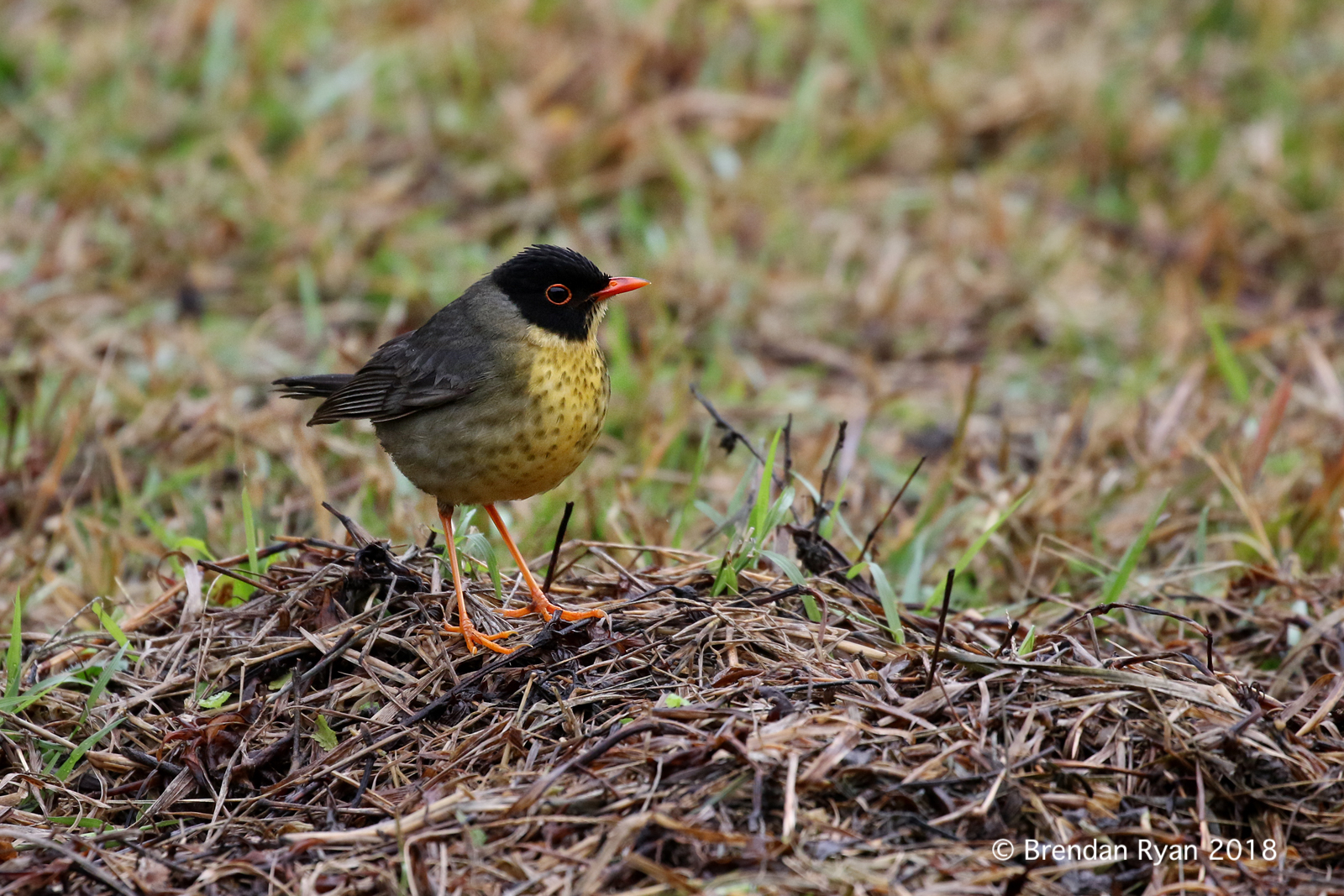 Yellow-throated Nightingale Thrush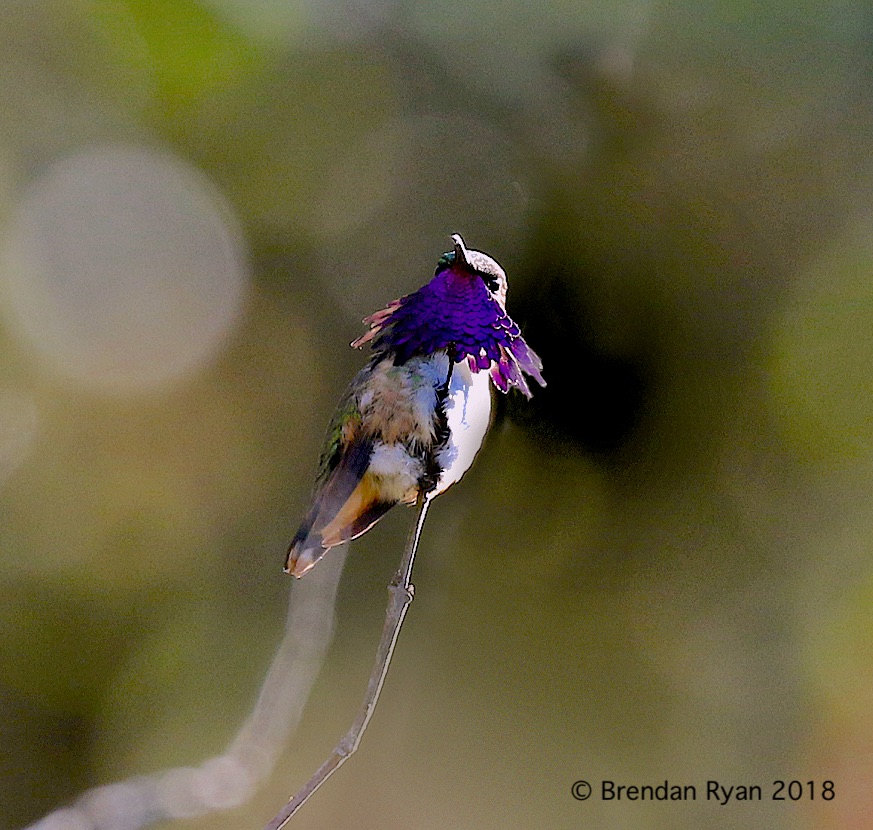 Wine throated Hummingbird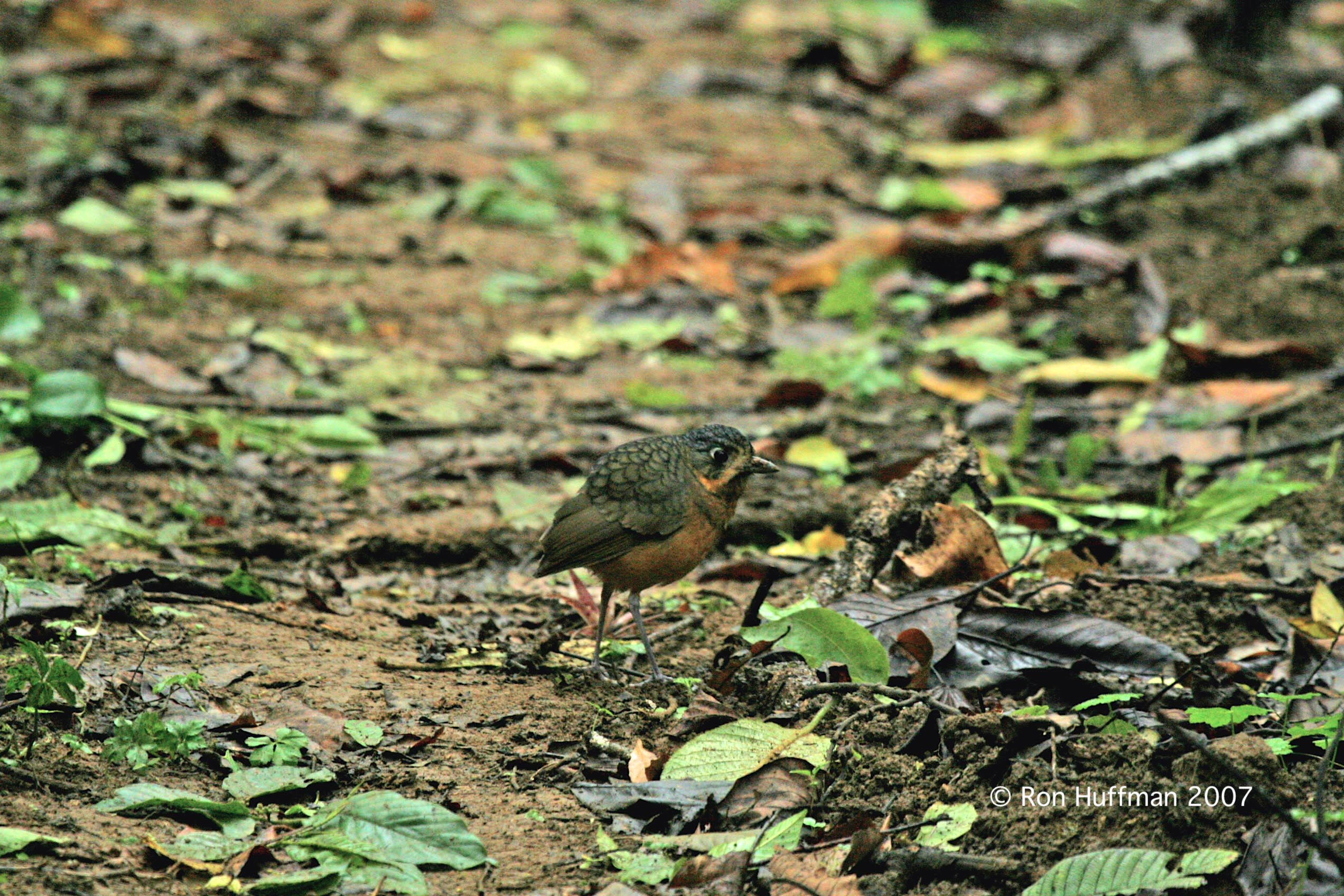 El Triunfo Biosphere Reserve
The Sierra Madre del sur de Chiapas
Arrival to this region takes place with a connecting flight through Mexico City as no international airport serves Chiapas State at the moment.  This route begins and ends in Tuxtla Gutierrez, though custom routes, depending and number of days and variety of targets have the option of beginning or ending in Oaxaca City, Tapachula, or Villahermosa
The El Triunfo Biosphere Reserve is located entirely within the Sierra Madre del Sur de Chiapas.  Because the continental divide runs the length this range, and continues south to Volcan Tajumulco and Lake Attilan in Guatemala, there are NO endemic birds to be found within the reserve – all birds are shared with other regions in Mexico or Guatemala (where many are easier to see at present). There are a number birds better seen here in Mexico than anywhere else and these are treated as MUST-SEE BIRDS: Horned Guan, Highland Guan, White-faced Quail-Dove, Fulvous Owl, Rufous Sabrewing, Emerald-chinned, Wine-throated, Sparkling-tailed & Blue-tailed Hummingbirds, Green-throated Mountain-gem, Resplendent Quetzal, Blue-throated and Tody Motmots, Tawny-throated Leaftosser, Scaled Antpitta, Paltry Tyrannulet, Yellowish Flycatcher, Long-tailed Manakin, Black-throated Jay, Black-capped Swallow, Rufous-browed & Rufous-and-white Wrens, Yellow-Throated Nightingale Thrush, Mountain Thrush, Azure-rumped Tanager, White-eared Ground-Sparrow, Prevost's [White-faced] Ground-Sparrow, and Blue-crowned Chlorophonia.
In addition quality birds often seen at the El Sumidero National Park in Tuxtla Gutierrez on Day #1 include: Singing Quail, Lesser Roadrunner, Slender Sheartail, Belted Flycatcher, Gray-collared Becard, Red-breasted Chat, Blue Seedeater, and Bar-winged Oriole.
On our return journey to Tuxta Gutierrez while birding the coastal plain of Chiapas additional key species include White-bellied Chachalaca, Lesser Ground-Cuckoo, Pacific Parakeet, Yellow-naped Parrot, Green-fronted Hummingbird, Rufous-breasted Spinetail, Giant Wren, Ruddy-breasted Seedeater, and Rose-bellied (Rosita's) Bunting.
The strategy for this region involves one essential element – the TIMING of the trip! The male Horned Guan gives a deep grouse-like humming call throughout the late winter/early spring until the annual rains arrive.  Without hearing the male call chances of seeing this rare bird are very low. Legacy Tours offers an open-tour annually into the reserve during February to ensure success with this one principal target species.
As for the trip itself, horses pack all of the gear up and down the mountain, visitors stay at the biological station while in the core-zone of the reserve, cooks prepare three mails daily, with camping two nights during the descent of the Pacific Slope [tents and food prepared by local staff].  Visitors are essentially free to focus all personal energy toward birdwatching and absorbing the surrounding natural beauty.  It is a wonderfully magic location,  the only place of its kind in Mexico — the 'Galapagos of the Cloud Forests'.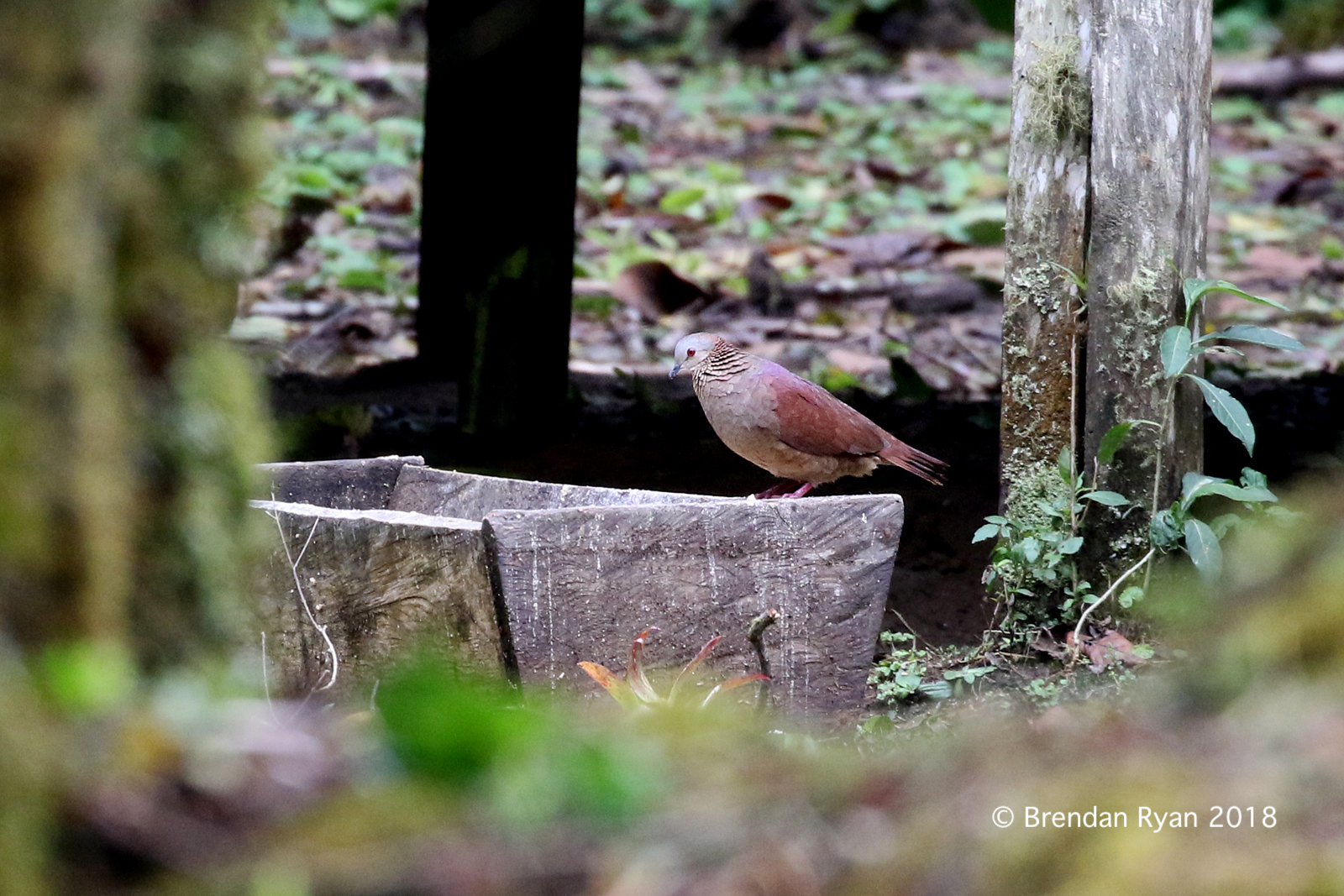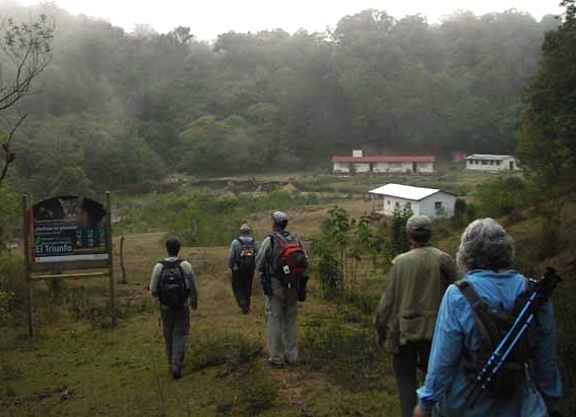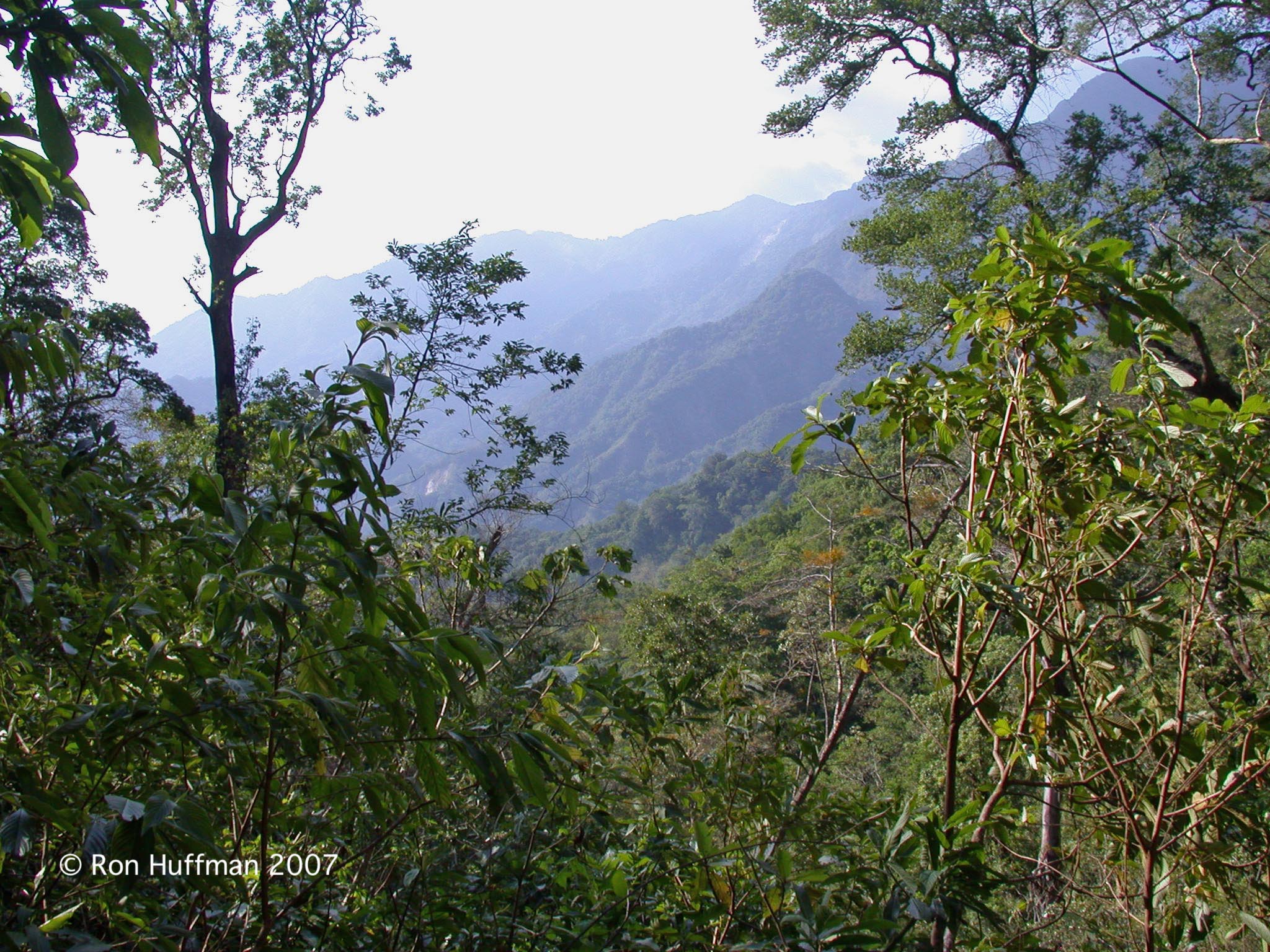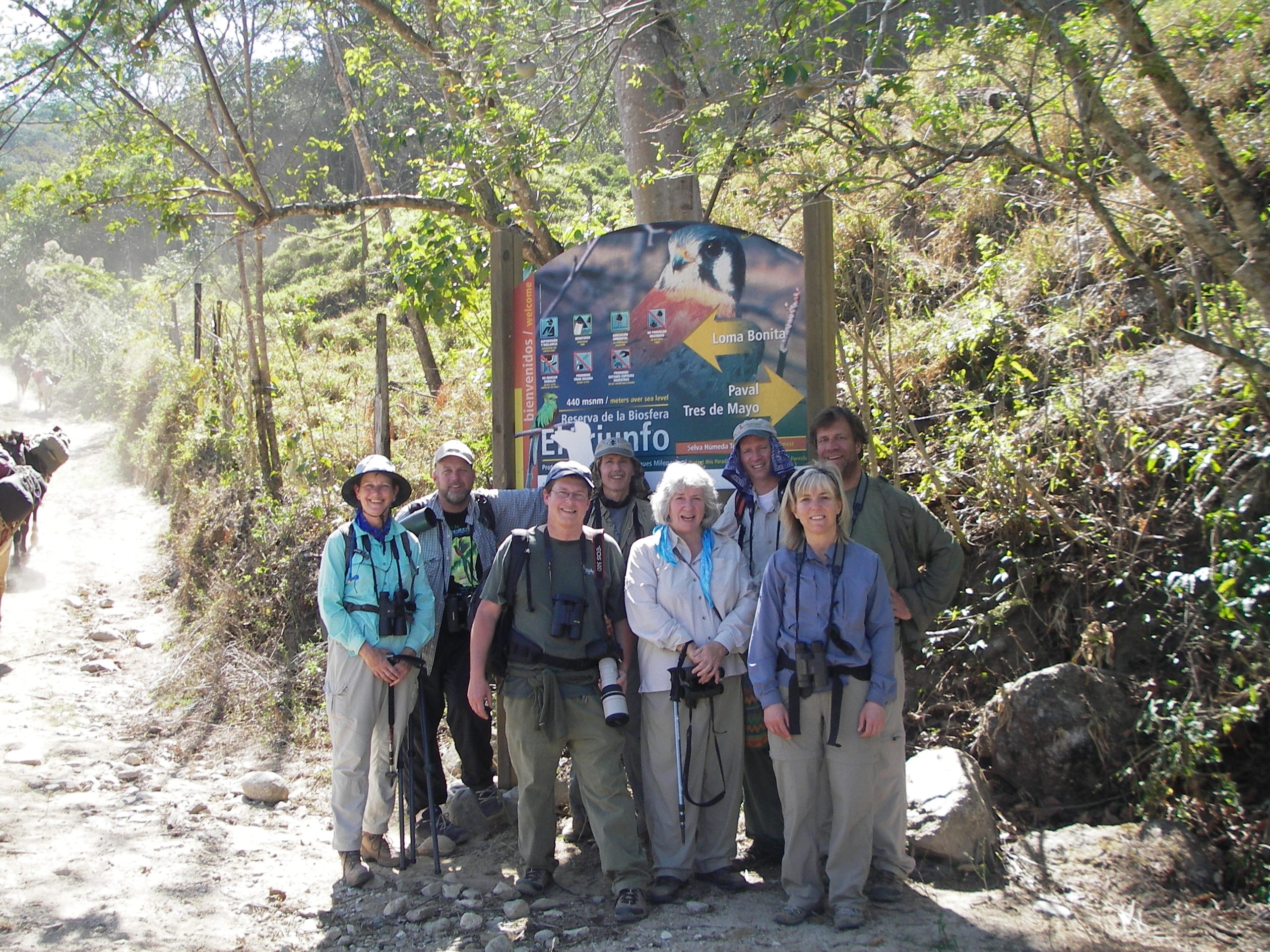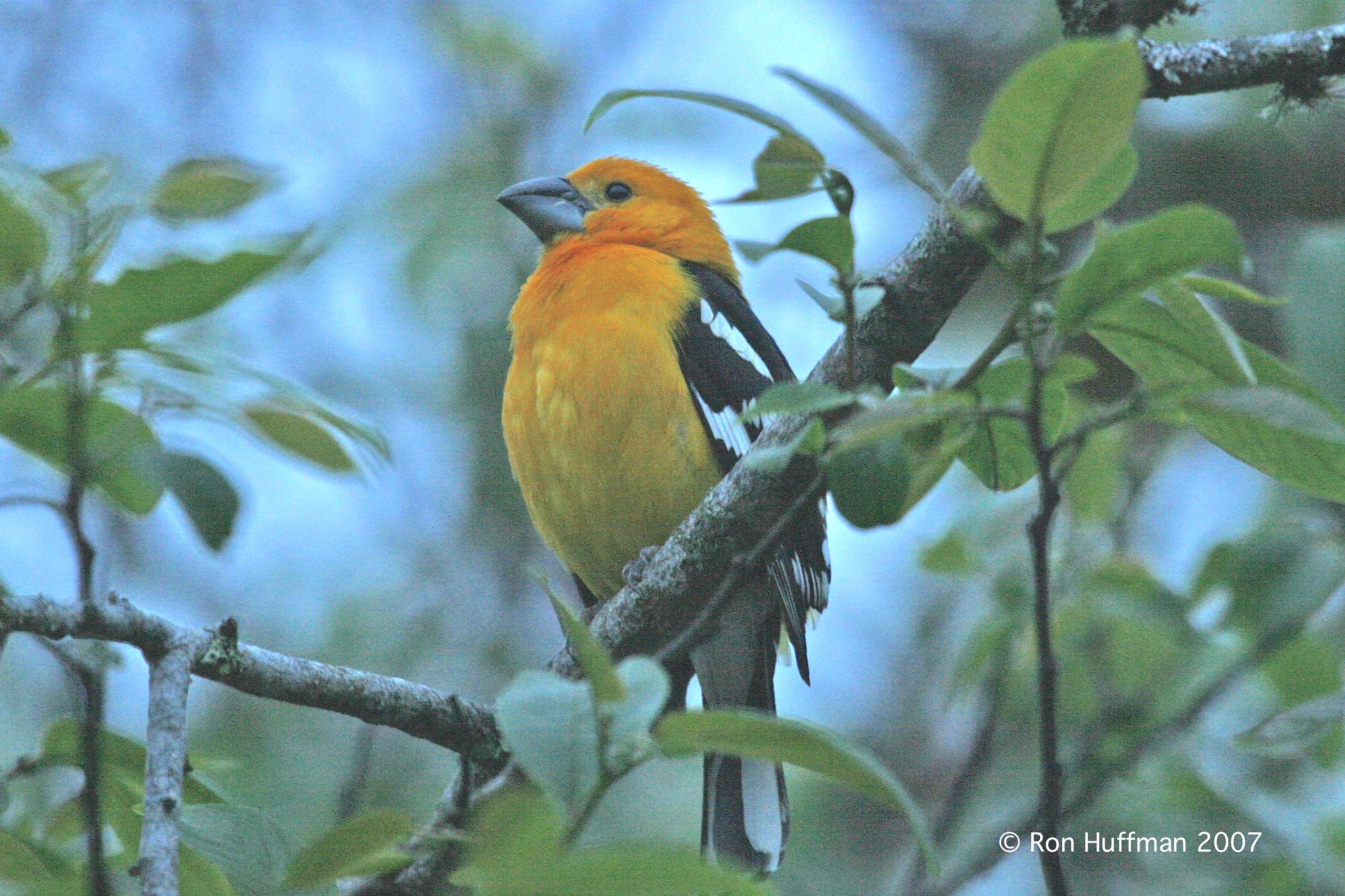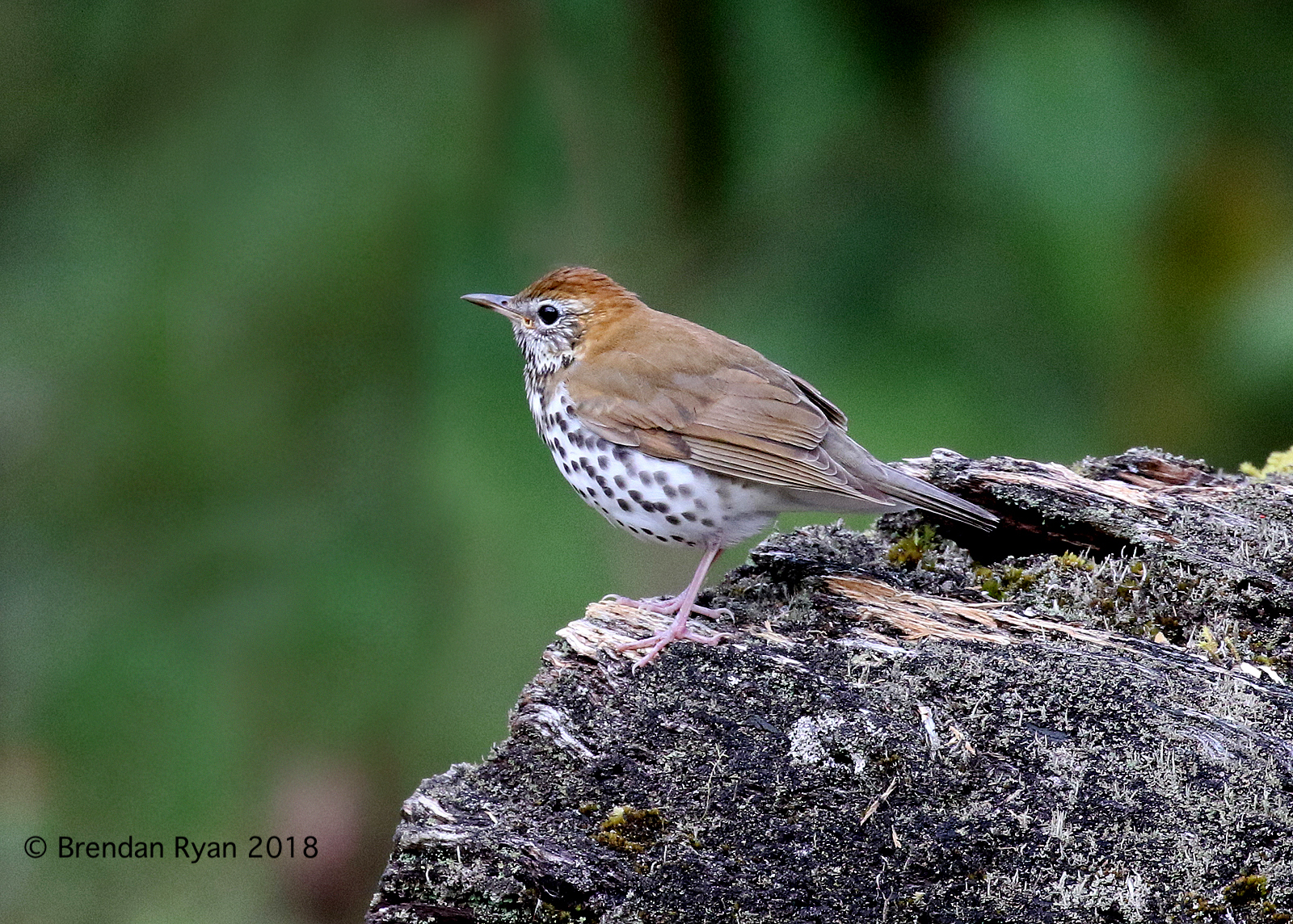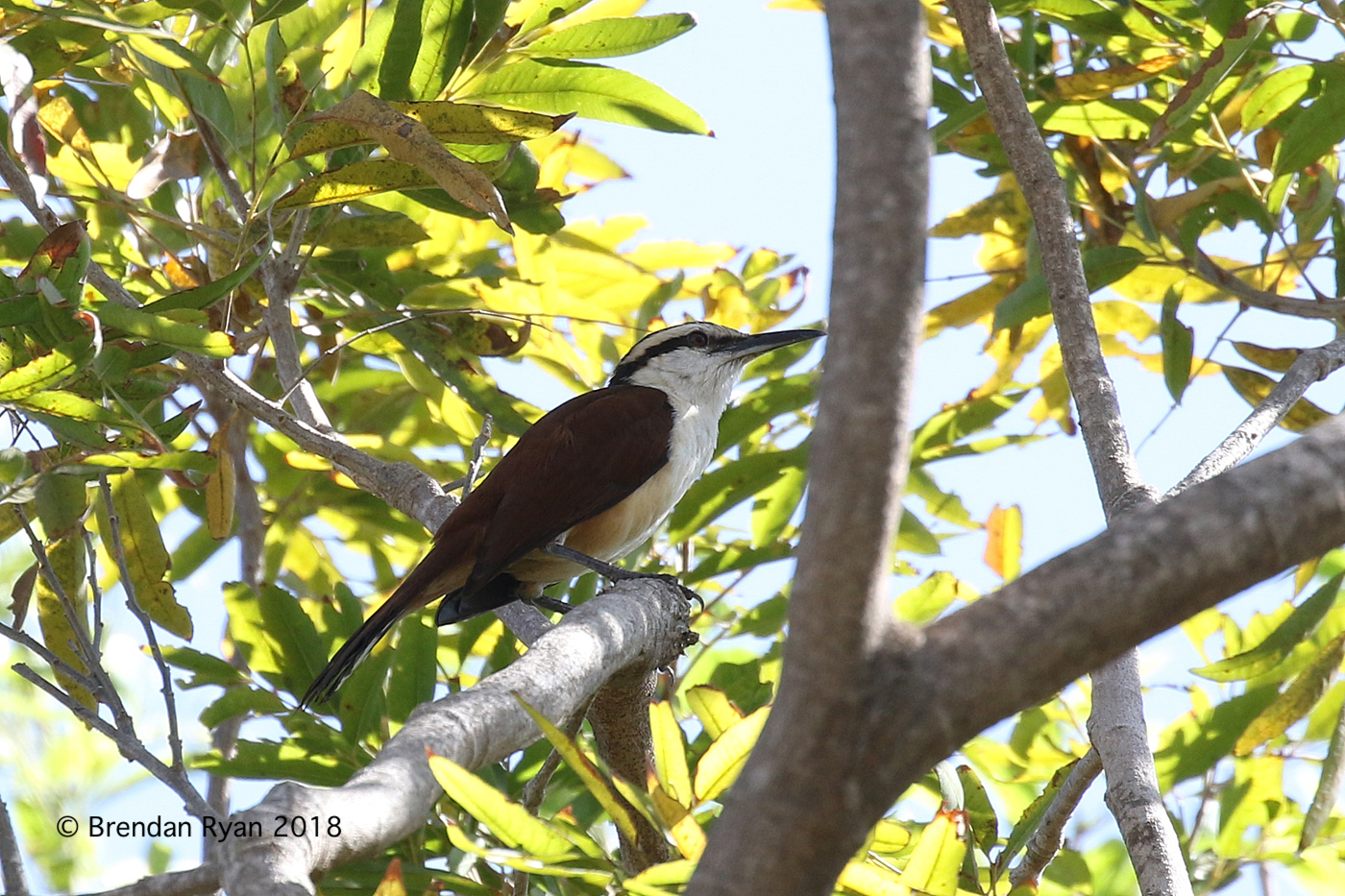 Yellow Grosbeak (P. c. aurantiacus)
Wood Thrush (Winter Resident)
Giant Wren, Mapastapec Chiapas
LEGACY TOURS will request a permit on behalf of a custom party with a minimum of 8 participants
The El Triunfo Biosphere's entrance policy has recently changed with entrance requests no longer accepted in advance.  Future entrances will be dependent upon permits granted 'at short notice as directed by the reserve management'.  LEGACY TOURS no long offers annual 'open tours' during early February, however we will attempt to access the El Triunfo Biosphere Reserve on behalf of custom parties that reach out to us for the necessary permissions.  After 23-guided tours into the reserve during the past 19-years this program is NO LONGER GUARANTEED, but rather it must be petitioned on behalf of a custom party (mininum of 8 – maximum of 14).